If you have the Sengled Smart Window & Door Sensors, you may want to have notification enabled so you can know when a motion event occurs.
The same is true for the Sengled Smart LED with Motion Sensor (PAR38).
In addition to the steps below, you will need to ensure the Sengled Home app has permission from your phone to send you notifications. This is done by navigating the "Settings" page for your phone and finding the Sengled Home app or where app permissions are located.
For more information on having your phone give an app notification permission, please contact your phone's manufacturer or provider.
To enabled notification from the Sengled Home app itself, open the Sengled Home app.
Then, tap on "Settings".
From here, tap on "Notifications Settings".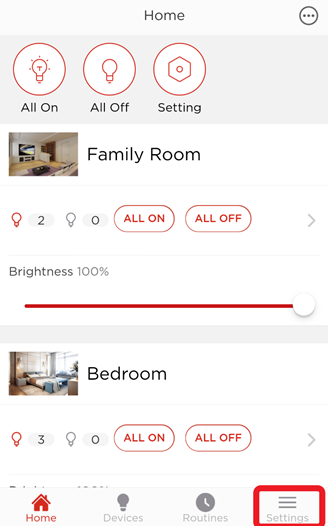 From here, tap on "Notification Settings".
After that, tap on the slider so it turns red.
In this case, we wanted to get notifications from our door sensor.