Note: Motion Zones are only available with a paid cloud storage plan.
Motion zones determine the area in which the Smart LED with Security Camera will register motion detection events.
Open the Sengled Snap app and tap the hexagon shaped settings button. This will take you to the "Settings" page. As you can see, motion detection is turned off. Tap on "Motion Detection" to adjust the settings.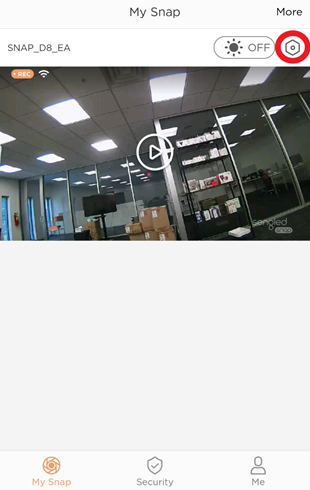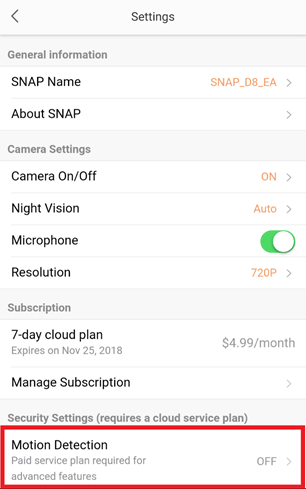 Make sure motion detection is turned on as indicated by the green slider next to the "Motion Detection" bar on the "Motion Detection" page—this has been marked by the red checkmark.
Under "Activity Zones" we chose "New Zone 1" since we want to adjust the default motion zone and do not want to create a new one.
This will take us to the "Edit zone" page.
Note: Motion Zones is a feature that is only available with a paid Cloud Plan.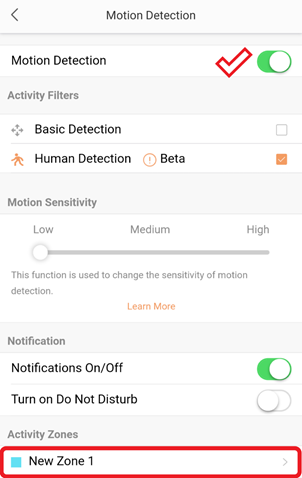 As indicated by the blue arrow, you can tap on that area to rename the motion zone.
As indicated by the red arrow, you can choose the color of your motion zone. In this example, we chose red.
As indicated by the green arrows, you can grab the sides of the motion zone to change its size. Also, once the motion zone is smaller, you can move the rectangle that indicates the motion zone.
The following pictures are a before and after.
Once you are done, press the back arrow as indicated in the after photo by the red circle.