The following guide will walk you through connecting the Pulse bulbs to your Google Home:
Please note: When the Pulse bulbs are connected to the Google Home, you will not be able to control the lights. This is because the Google Home connects to the Pulse bulbs as a Bluetooth speaker and does not have an interface to interact with the lights. To control the lights, you would have to disconnect from the Pulse bulbs; then, connect back the Pulse bulbs with your mobile device to control the Pulse bulbs via the Pulse app.

1) Open the Google Home app and press the button in the top right corner. The button looks like a speaker in front of a television.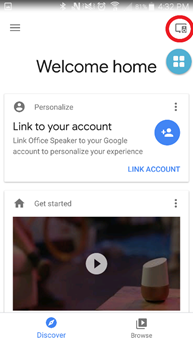 2) This will take you to the "Devices" page. From here, scroll down until you see your Google Home device and press the three dots located in the top right corner of your device's display box. From here, a dropdown menu will appear. Press "Settings."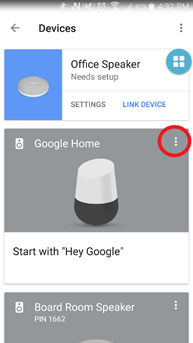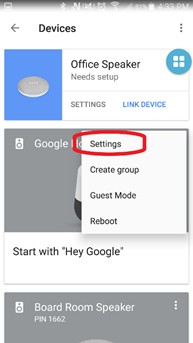 3) This will take you to the "Device Settings" page. Scroll down until you see "Default music speaker" and tap on it.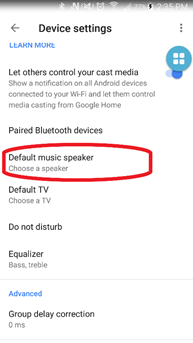 4) Press "Pair Bluetooth speaker" so the Google Home can find your Pulse device. In the provided example, we are connecting to the Pulse master bulb. The Bluetooth name it broadcasts is "C01-BR30."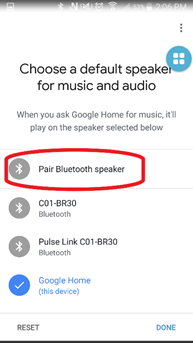 5) After your device is found, tap on it to connect to it by tapping on the name of your Pulse device.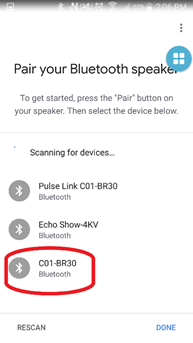 Please note the Google Home only emits music as audio. Your Google Home will continue to speak to you using its default speaker.